Welcome to a new master planned community
Rivermark will deliver approximately 650 homes to a range of homebuyers within the established suburb of Viveash.
With land catering to buyers of all types, including those looking for larger blocks and extra room, to downsizers seeking an easily maintained house and garden, Rivermark is the return to living within the beauty of the West Australian landscape.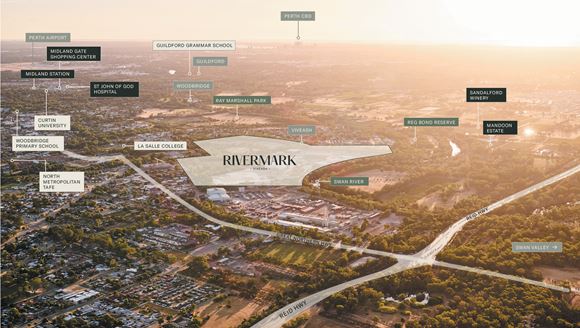 The Rivermark Vision
Your home by the river
Rivermark is a return to the ideals of neighbourhood living within the beauty of the West Australian landscape. The foreshore at Rivermark will be a place for everyone to enjoy an active lifestyle. From river kayaking, fishing, and water sports to the numerous local sporting fields and facilities nearby.
Rivermark is linked to the wider community by a 5.5km network of immediate riverside trails. Cycle and walking paths follow the river all the way back to Perth's CBD.
Rivermark's planned restoration and enrichment of native West Australian flora and fauna habitats and biodiversity has resulted in green open spaces, tree-lined streets, and a uniquely West Australian character and identity.
A Life of Plenty
Located within the established suburb of Viveash you won't have to wait years for amenities to arrive.
Exceptional wining and dining: Explore more than 40 world-class wineries with the oldest wine region in Western Australia, as your new backyard.
Retail & Entertainment: Enjoy fresh food, produce and local crafts at the local farmers markets, plus all your essentials at the nearby local shopping centres.
Education & Medical: Great local schools, including Guildford Grammar and La Salle College are nearby. St John of God hospital and Curtin medical campus are just a stones throw away.
Download Brochure
Want to know more?
Download the Rivermark Brochure
Register to receive the Rivermark brochure and learn more about our Rivermark.
*Promotions, specifications and pricing are subject to change without notice. Read our disclaimer for more information.