Welcome to a new master planned community
When you choose to live at Rivermark, there's no shortage of choice and space. Rivermark currently has, with multiple 500 sqm titled lots available within the established suburb of Viveash.
With large blocks of titled land for sale, you'll be spoilt for choice with land options that cater to buyers of all types. With larger blocks of up to 500 sqm, a rarity in Perth, there's more space to call your own and create your dream home and lifestyle within the beauty of the West Australian landscape. Downsizers can enjoy the modern low-maintenance lifestyle they crave, with an easily maintained house and garden within this beautiful private estate.
The large blocks of land for sale offered at Rivermark Estate provide a beautiful mix of peace and privacy. Immerse yourself in the luxury of space, with generous land parcels providing a unique opportunity to craft a lifestyle that seamlessly merges modern home designs with the tranquility of nature.
Why live at Rivermark

Rivermark offers a level of ease and family convenience that is rare in many new land estates in other areas of Perth. And when it comes to land, Rivermark provides a level of choice buyers will struggle to find across the whole Perth region.

With large blocks of land for sale, Rivermark allows you to bring your home and lifestyle dream to life with the space you need to create your own private sanctuary. With a deep connection to nature, Rivermark features beautiful tree lined streets and green open spaces to create a truly peaceful community.

Larger blocks mean you can enjoy a larger lifestyle with beautifully crafted outdoor spaces ideal for entertaining or relaxing and weekends spent enjoying some of Perth's best food and wine at Sandalford Wines, Mandoon Estate and Caversham House in the Swan Valley. Take advantage of the river at your doorstep at Reg Bond reserve or one of the many walking trails along the banks of the Swan River.
What is titled land?
The term titled land refers to land that has been recognized by local authorities as a separate, individual lot. This recognition is accompanied by a legal title, certifying your ownership of the land parcel. Titled land offers a host of benefits, including a clearer picture of boundaries, the freedom to quickly begin construction, and a streamlined property-purchase process. With this kind of land, you get a sense of security and the rare opportunity to bring your dream home to life.
With titled land in Rivermark varying in size and price, there is an option to suit purchasers at all stages of life.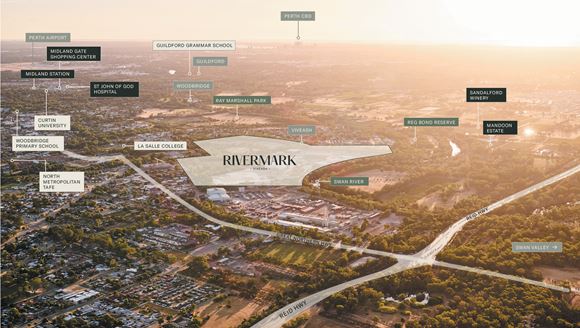 The Rivermark Vision
Your home by the river
Rivermark is a return to the ideals of neighbourhood living within the beauty of the West Australian landscape. The foreshore at Rivermark will be a place for everyone to enjoy an active lifestyle. From river kayaking, fishing, and water sports to the numerous local sporting fields and facilities nearby.
Rivermark is linked to the wider community by a 5.5km network of immediate riverside trails. Cycle and walking paths follow the river all the way back to Perth's CBD.
Rivermark's planned restoration and enrichment of native West Australian flora and fauna habitats and biodiversity has resulted in green open spaces, tree-lined streets, and a uniquely West Australian character and identity.
A Life of Plenty
Located within the established suburb of Viveash you won't have to wait years for amenities to arrive.
Exceptional wining and dining: Explore more than 40 world-class wineries with the oldest wine region in Western Australia, as your new backyard.
Retail & Entertainment: Enjoy fresh food, produce and local crafts at the local farmers markets, plus all your essentials at the nearby local shopping centres.
Education & Medical: Great local schools, including Guildford Grammar and La Salle College are nearby. St John of God hospital and Curtin medical campus are just a stones throw away.
Enquire about our 500 sqm lots
Want to know more?
Enquire about our 500sqm lots today
Register for the Rivermark brochure and to learn more about Rivermark from our sales team.
*Promotions, specifications and pricing are subject to change without notice. Read our disclaimer for more information.